So I have a new album coming out soon, and have recorded nearly all of the music for it. The speed bump now is my computer. Before I can lay down some sweet vocal tracks, I need to upgrade the RAM in my computer. Unfortunately, I have to special order the RAm, lame. I'll keep you updated on progress and keep checking back here for a sneak peek of the new songs!


Start blogging by creating a new post. You can edit or delete me by clicking under the comments. You can also customize your sidebar by dragging in elements from the top bar.
Powered by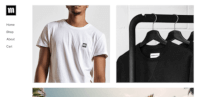 Create your own unique website with customizable templates.