The CDs are all packaged and mailed to all the Kickstarter funders! Also, I don't think "funders" is a word! Hooray! Check out some pictures below! If you want to buy an album, there are plenty available for sale and it will be up on iTunes or any of your other favorite downloadable sites within a couple weeks of processing! Thanks again! I could not have done this without you guys!

There will be a link up soon to buy the album, but if you just can't wait, send $10.00USD $1.89 S&H via PayPal to justinlambmusic@gmail.com and include your name and address in the notes!

I love all y'all!
Powered by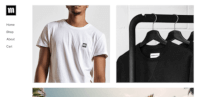 Create your own unique website with customizable templates.